April 10, 2008 § 1 Comment
Of the many things i saw and read these were the most disapointing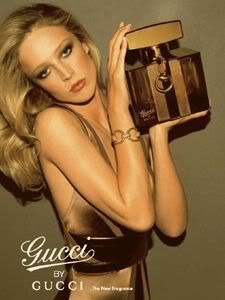 1. Gucci by gucci commercial on TV – I've seen it hundreds of times on youtube and downloaded it (because i love natasha poly and freja beha) but today was the first time i saw it on commercial TV. i was helping mum make dinner (back turned away from TV) and i heard "Once I had a love and it was a gas Soon turned out had a heart of glass" i thought it was just the song on TV and i turned around and it was the ad, the full length thing. I had this weird feeling like excitment but oh so disappointed. It was so high fashioned before, with lovely high fashion models(natasha poly, freja beha erchsen and raquel zimmerman) but now that's its was on australian commercial TV it is commercial. People who don't know anything about fashion or appreciate this abundance of glory will know about it.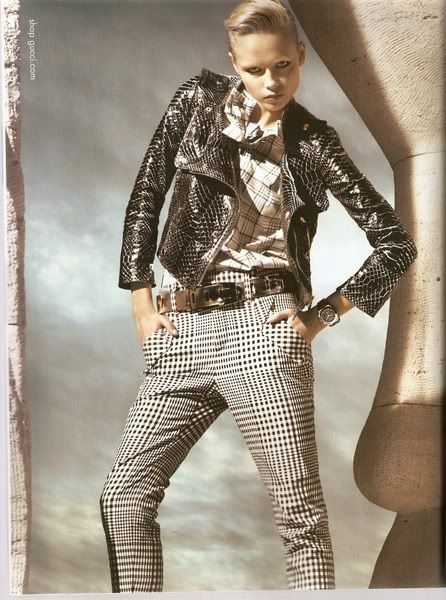 2. Natasha Poly is not the Gucci girl anymore- in my eyes she will always be 'the' gucci campiagn girl. now Abbey Lee , Eniko Mihalik, Kasia Struss, Ksenia Kakhnovich and Lily Donaldson are the gucci girls, they're just not gucci enough. really… just not gucci enough… but the whole collection was not gucci enough. I LOVE NATASHA, but maybe shes too blonde, pale and skinny??
3. the whole list of my favourite models and the campiagns this season( or designer / models)- its just not right. It'd so strange. But so far i haven't seen anything about sasha pivovarova and prada…
Abbey Lee
- Gucci – Ph: Inez & Vinoodh
- CK Jeans – Ph: Steven Meisel
Alexandra Tomlinson
- Armani Jeans – Ph: Mert & Marcus
Anja Rubik
- Oscar de la Renta – Ph: Craig McDean
Anna Jagodzinska
- CK Jeans – Ph: Steven Meisel
Anna Mikhaylik
- Lacoste
Claudia Schiffer
- Salvatore Ferragamo – Ph: Mario Testino
Eniko Mihalik
- Gucci – Ph: Inez & Vinoodh
Eva Herzigova
- Louis Vuitton – Ph: Mert & Marcus
Flavia de Oliveira
- Tommy Hilfiger – Ph: Dewey Nicks
Isabeli Fontana
- Versace – Ph: Mario Testino
- Cavalli – Ph: Inez & Vinoodh
- Valentino – Ph: Peter Lindbergh
- Belstaff – Ph: Steven Meisele
Karmen Pedaru
- Chloe – Ph: Craig McDean
Kasia Struss
- Gucci – Ph: Inez & Vinoodh
Ksenia Kakhnovich
- Gucci – Ph: Inez & Vinoodh
Lara Stone
- Belstaff – Ph: Steven Meisel
Lily Donaldson
- Gucci – Ph: Inez & Vinoodh
Mariacarla Boscono
- Moschino – Ph: Patrick Demarchelier
- Hermes – Ph: Eric Valy
Marina Linchuk
- Joop Jeans – Ph: Inez & Vinoodh
- Belstaff – Ph: Steven Meisel
Naomi Campbell
- Yves Saint Laurent
Natasha Poly
- Blumarine – Ph: Craig McDean
- Jil Sander – Ph: Willy Vanderperre
Rosie Huntington Whiteley
- Burberry – Ph: Mario Testino
- D&G Underwear
Snejana Onopka
- MaxMara – Ph: Craig McDean
Suvi Koponen
- Calvin Klein Collection – Ph: Fabien Baron
Toni Garrn
- ck – Ph: Steven Meisel
Valentina Zeliaeva
- Ralph Lauren
Vlada Roslyakova
- Lagerfeld Gallery – Ph: Karl Lagerfeld
- DKNY – Ph: Mikael Jansson
Source: supermodels.nl
April 4, 2008 § Leave a comment
I really think this might work.
Ahummm now a bit about me, I'm 14 years old, I aspire to be a fashion designer/shoe designer/interior designer. Maybe I'm aiming too high but I guess I have to. I'm a Melbournian, and even though Melbourne is fairly boring I'm sure I'll find funny, juicy, stupid stuff to write about. I go to a really strict, academic driven, girls only, selective school. I moved there at the start of this year. I have no idea how I got in, I can easily be mistaken for a fashion obsessed bimbo. Which brings me to my next tid-bit of info, I am fashion obsessed, but I don't like shopping all that much. I also have a shared blog (www.melbstylescouts.blogspot..com), a myspace (www.myspace.com/chewylurvzalldemmodelz) and best of all, my design website (www.freewebs.com/angelayangdesigns). I enjoy fashion, design, styling etc…
Now all you have to do is keep checking back here and I'll fill you in about my life and those I hear about.
xx angela