December 20, 2010 § 7 Comments
Buying gifts for people are hard, especially when you a) leave it to the last minute b) have too many friends c) come to the sudden realisation that you have no idea where to go d) haven't received anything this year because you gave such dreadful gifts last year or a combination of some/all of them! Here's my guide gift giving:
1. Don't leave it to the last minute
2. Make a list, put people into groups  and give each group or person a budget (I know this is hard but you have to do it!
3. If there are people who gave you presents last year but you didn't buy anything for them(and didn't have a back up gift. note 5), PLEASE get something for them
4. Regifting is OK, just make sure they would NEVER find out.
5. Always have backup gifts, small wrapped gifts (chocolates, small cosmetics etc) in your bag for when you might run into people who might give you a present.
6. Ditto for cards too, I know this is going to sounds so horrible but just have a generic term of endearment at the top (I normally do this for last day of school and since I go to an all girls school "dear babe/sweets/darling" works for me)
6. Try and wrap your own presents or at least add your own touch with a bow, sticker ANYTHING! I personally like designing your own gift boxes (I got mine online then added ribbons but you can get them from $2 shops and decorate them)  
7. At least attempt thoughtful gift giving.
For the woman who beared and beared with you (aka your mother): A nice classy, classic bag:
Fendi Peekaboo
YSL muse

Lady Dior

For the BFFL who has been by your side through thick and thin, bad and good: Something fun and fluttery
Christopher Kane

Versus

Erdem

For the sister who takes your shoes all the time (I don't have one, I wouldn't know LOL): A pair of amazing black pumps that you can take ;)
Manolo Blahniks

Lanvin

Christian Louboutins (These  look like you stepped in diamonds and they just exploded all over your shoes)

For your dad who's just awesome because he's your dad: Something useful and understated
Burberry scarf

Stephen Webster cufflinks

Or even better a gift card from Repco!
For the cousin who has everything: An OTT, festive headband
VeeChay
 VeeChay
Bijoux Heart
 For yourself, because you deserve it: A gold dress
Alexander McQueen

Pucci

Herve Leger

Picture credits: net-a-porter, SAKS, barney's, veechay.com, neiman marcus.
XXASAB
September 12, 2009 § 2 Comments
I've always been a massive fan of Herve Leger(which Max Azria also designs for) and this season Max has brought a little bit of Herve into BCBG. I use to think of BCBG as an average, 'young hollywood', 'defusion' brand. The bandage dresses and interesting prints in this collection changed my mind, well, I still think it's very 'young hollywood' but maybe not so average. I'd discribe it as a brighter, less grungy version of Alexander Wang's last collection.
XXASAB
pics-style.com
September 14, 2008 § 4 Comments
Oh! Ah! OUCH! Trips, slips, stumbles and of course 'nip slip'! Goodness knows we all love them! Here's what happened:
Academy of Art Presentation:
Something seriously wrong with those shoes I guess!
Doo.ri
Oh snap! Seriously, SNAP, someone broke a heel at Doo.ri
Carlos Miele
Ohh I love gifs, that poor man tripped on a models gown
Jill Stuart
Now that is one hardcore nip slip
Venexiana
Hmm… not too bad but still, a stumble is a stumble
Herve Leger
Nip slip
Preen
Oh Anja, that dress looks twisted… oh and yeah, the nip slip
BCBG
Abbey lee, poor abbey lee, this is one of 3 trips.
DKNY
We love PETA! Yeah! umm no. Gosh but we do love the annoying protesters (look at Kim Noorda, her face is so full of shock)
Rosa Cha
Naww Vlada! A nip slip, well she's no strager to nip slips, yeah you Vlada fans would know what I'm talking about.
Patrik Rzepski 
She trips then takes off her shoes, no big deal but still worth it
Rubin Singer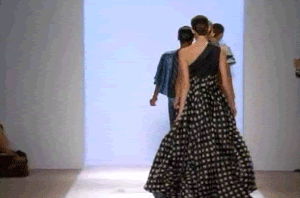 Stumble
Peter Som
(look behind the obvious)
Hahahahahahahahhh! Those who know me well know I hate Chanel Iman, I was so happy when I saw this. Yeah take that Chanel! She had a bit of a stack.
go to 1:20 and SMACKKKKKKK!
Chanel on stumbling (yes… of course no one saw you stack it)
Rodarte
abbey
In case you missed it, Abbey Lee falls on her toosh at 0:09 it's not noticable but you can see it. It must have been bad because she didn't walk the finale.
Karlie
The Video say it all. Priceless! Sasha looked so bitch and Jourdan kicks Karlie's numerous times.
Zac Posen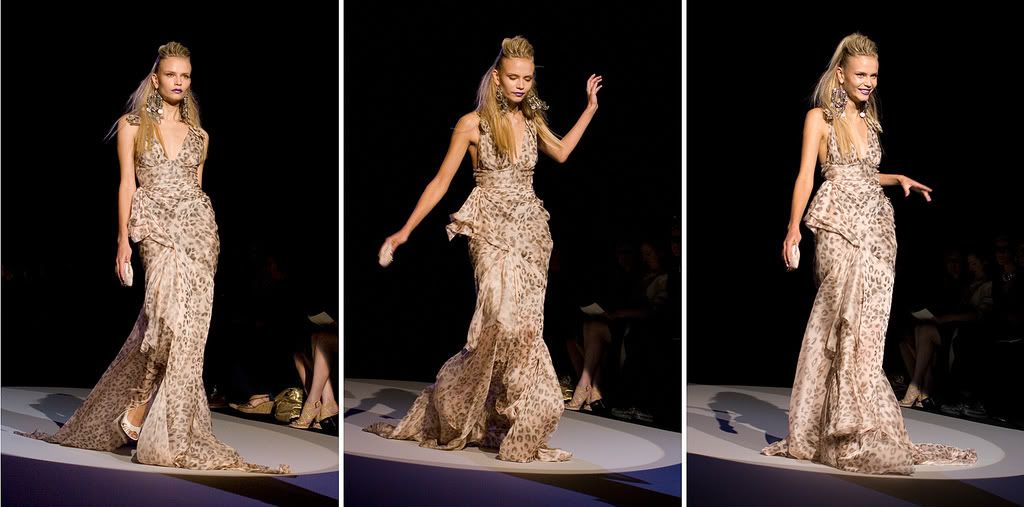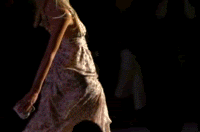 -gasps- that!! It couldn't be! OH NO! It's flawless walker Natasha Poly! Not a stumble since the air heel incedent at VSFS 2005! AHAHAH But I don't know what's worse the dress or the trip? Sexy recovery though.
Hope you had a laugh
XXASAB
Credits to á la Balenciaga, fashion_girl22, fashion power on tFS and style.com